News: Expired: County Seeks 'Forever Homes'
Published Fri November 20, 2015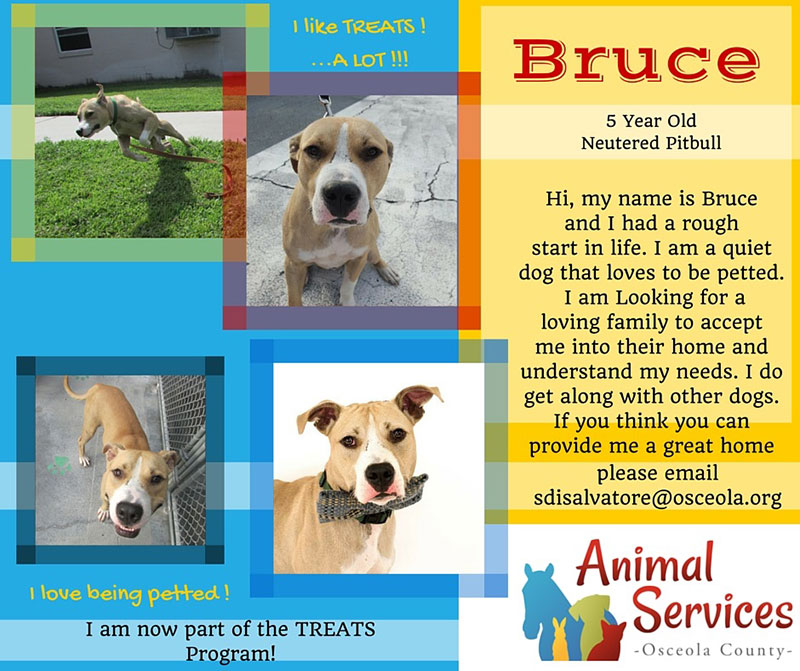 Forever homes needed
Osceola County, Florida – In recent months, Osceola County Animal Services has received an unprecedented number of animals from situations of neglect.
These animals never have had a chance to be cared for or to be loved. Some were victims of dog fighting, others were underweight and all came from horrible living conditions. Unfortunately, there's been no success to rehome several dogs.
"Each has a story but the most important thing to know is that you can make a difference in the life of dog that was cast aside," said Osceola Commission Chairman Brandon Arrington. "They need and deserve a home where they will be part of the family."
Animal Services has four dogs that are in desperate need of homes, their info and photos are attached:
Trinity: Trinity is a 6-year-old female pit bull brought in with a badly broken leg. Due to the severity of the break, her leg was removed. She is an absolute bundle of sweetness, who is just waiting to be loved and to love you back.
Dottie: Dottie is a brindle pit bull about 2 years of age. She has been good with other dogs at the shelter and is a little shy at first. She will warm up to you with a little time and patience. Dottie so deserves a great home.
Jade: Jade is a female, 2-year-old black and white pit bull that came to the shelter from a situation of neglect. She is a bit shy and it takes her time to build trust. She loves walks and being petted, gently and kindly. She needs a quiet place to call home where she can rest and be loved.
Bruce: Bruce is a handsome dog who came to us from a horrible situation. He loves to cuddle and be petted but also has lots of energy for play time. He is super sweet and gets along with other dogs he has been with at the shelter.
We hope you consider making one of these dogs part of your family. Call 407-742-8000 if you are interested in adopting a pet from our shelter.
---
Condado de Osceola busca hogares para mascotas
Condado de Osceola, Florida – En los últimos meses, el Departamento de Servicios de Animales del Condado de Osceola ha recibido una cantidad sin precedentes de animales por situaciones de abandono.
Estos animales nunca tuvieron la oportunidad de ser atendidos o amados.  Algunos fueron víctimas de peleas de perros, otros estaban desnutridos y todos  vinieron de horribles condiciones de vida.  Desgraciadamente, no se ha tenido éxito reubicando algunos de estos perros.
"Cada uno tiene una historia pero lo más importante a saber es que usted puede hacer una diferencia en la vida de un perro que fue abandonado",  dijo Brandon Arrington, Presidente de la Comisión de Osceola. "Ellos necesitan y merecen un hogar donde puedan ser parte de una familia".
Servicios de Animales tiene cuatro perros que están en desesperada necesidad de vivienda como  los siguientes:
Trinity: Trinity es una pit bull de  6 años traída con una pierna gravemente fracturada.  Debido a la gravedad de la fractura, su pierna fue removida.  Es muy dulce y espera ser amada y amar a quien la adopte.
Bruce:Bruce es un perro hermoso que vino de una situación horrible.  Le encanta ser acariciados y también tiene mucha energía para jugar.  Es súper dulce y se ha llevado bien con los perros que ha estado en el refugio.
Dottie: Dottie es una pit bull atigrada de 2 años de edad.  Ella ha sido buena con otros perros en el refugio y es un poco tímida al principio.  Se acostumbrará con un poco de tiempo y paciencia. Dottie se merece un gran hogar.
Jade: Jade es una pit bull blanca y negra de 2 años de edad que llegó al refugio de una situación de abandono.  Ella es un poco tímida y toma su tiempo para confiar.  Le encanta pasear y ser acariciada amablemente y suavemente.  Ella necesita un lugar tranquilo donde pueda descansar y ser amada.
Esperamos que considere hacer uno de estos perros parte de su familia. Llame al 407-742-8000 si está interesado en adoptar una mascota de nuestro refugio.