News: Pets in a Disaster… Be Prepared!
Published Mon April 17, 2017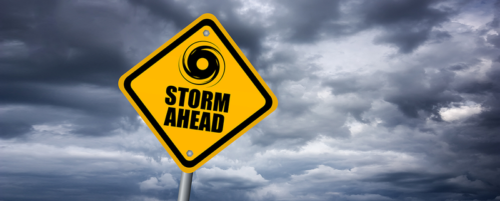 Hurricane season is fast approaching
After Hurricane Katrina pummeled New Orleans in 2005, it is estimated that around 250,000 animals, both domestic and wild, found themselves without a home and, for the many domestic animals, no source of food or clean water. Residents who fled often did so quickly with the intention of returning to retrieve the members of their family that they had to leave behind, only to find that they could not.
The newspaper and television reports showed dogs on roofs, or just swimming to try and find someone. Fortunately, many rescue groups converged on the area and a large number of animals were saved but, sadly, many were not.
Planning ahead for our animals as well as our human family can go a long way to avoiding what happens all too often – finding a last minute solution to the problem of what to do before, during and after a disaster.
Your plan should include where you will go, how you will get there and what you will do with your pets. Dogs are pretty easy to transport – cats, not as easy and some large animals will need specialized transport. All of this needs to be considered in your plan.
If you are interested in creating a family disaster plan, the State of Florida has a site that will help you do so. Just navigate to https://apps.floridadisaster.org/getaplan/ to begin. This could be your first step in developing a comprehensive family plan that will help protect all of your family members.
Pet Friendly Shelters:
In an effort to better help our citizen's plan and prepare for an emergency, the three "pet friendly" shelters are Harmony High School, Kissimmee Middle School, and Liberty High School. Emergency managers will determine resource requirements based on the actual threat. If you intend to evacuate during a hurricane or other situation, please contact the Office of Emergency Management for specific details regarding pet friendly shelters at (407) 742-9000.
Stay informed:
Osceola County Emergency Management has a program called Alert Osceola. After you sign up, informational email is sent to your inbox before, during and after any major event. This is official information from Emergency Management and will be both correct and timely.