News: Expired: Grant will help train our cats!
Published Wed January 23, 2019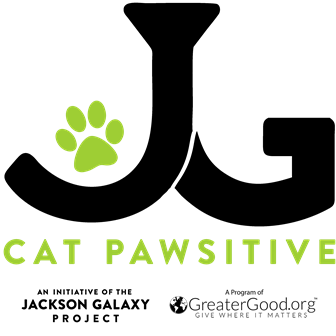 Partnering to enrich cats' lives.
What is Cat Pawsitive?
Osceola County Animal Services is one of 56 animal shelters and rescues across the U.S. selected by The Jackson Galaxy Project, a Signature Program of GreaterGood.org, to participate in the Spring 2019 Semester of Cat Pawsitive.

Cat Pawsitive is a life-saving initiative that introduces positive-reinforcement training to shelter and rescue cats.

Cat Pawsitive is supported by the Petco Foundation and Halo pet food, and it aims to increase feline adoption rates as well as maintain and improve cat adoptability at shelters and rescues.
How it Works:
The online training program, designed by The JGP's feline behavior experts, will run from January 18 through April 12, with five core team members learning Cat Pawsitive's positive-reinforcement-based training methods.

The Cat Pawsitive program is designed to keep adoptable cats mentally and physically active in a shelter or rescue environment. The focus is on fun training sessions that go beyond playtime-as-usual to help cats maintain their mojo and connect more quickly with potential adopters.

Cats who are exposed to the reward-based training methods of Cat Pawsitive experience reduced stress levels and build connections with staff, volunteers and potential adopters.

Halo pet food provides real WHOLE meat cat treats to help train and reward the cats participating in the Cat Pawsitive program.
Background /Statistics:
Jackson Galaxy (star of the television show My Cat from Hell on Animal Planet, and founder of The Jackson Galaxy Project) developed Cat Pawsitive with a team of feline behavior experts.

To date, hundreds cats that participated in the Cat Pawsitive training program have been adopted.

A total of 56 animal shelters have graduated from the Cat Pawsitive training programs since 2016.
To Learn More:
Jackson Galaxy will be sharing highlights of the program on the following pages: