News: Help our dogs play and learn.
Published Fri April 19, 2019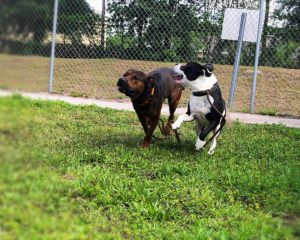 Dog play yards now being built and we need your help!
With a generous grant provided by the Dawn Brancheau Foundation, Animal Services now has an additional dog play yard spanning both A and B kennel buildings. With the fencing installed, our dogs now have an opportunity to go not only go outside, play and be dogs – but they can do so off leash!
As great an addition as this new play yard is, our shelter dog population is desperately in need of additional outdoor fenced areas for our dogs to play, learn and practice their skills. These new areas would allow our trainers and volunteers to conduct simultaneous training and play sessions, assuring that most if not all of our adoptable dogs would get the chance to use the yard on a regular basis.
How you can help
You can help our dogs as well as the dog care team at Animal Services by donating funds to help make these new play yards a reality. Any amount will help and will be greatly appreciated. To donate, please do the following:
---
1. Click on the Pay Pal link below.
2. Enter your donation.
3. Choose your method of payment
4. Click special instructions & enter "play yard."
5. Fill in credit card or other information.
6. Submit.