News: Expired: Program certification
Published Fri December 27, 2019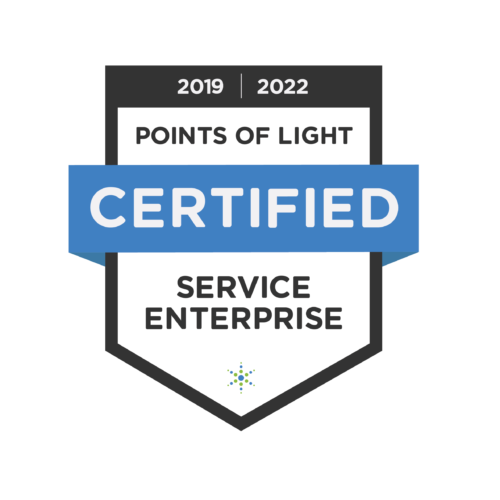 Points of Light: Service Enterprise
Osceola County Animal Services is pleased to announce that it has been certified by Points of Light, the world's largest organization dedicated to volunteer service, as a Service Enterprise! Achieving Service Enterprise certification is a prestigious accomplishment for an organization. In fact, organizations that certify join the top 11 percent of similar operations nationwide in volunteer management and organizational performance. Certification signifies that organizations have the capability and management expertise to strategically use volunteers to improve the performance of their organization.
Osceola County Animal Services completed an extensive assessment, over 20 hours of training and coaching, and an extensive internal planning and change process to better integrate volunteers into our human capital strategy.
By achieving this level of excellence and certification, Osceola County Animal Services is now better equipped to leverage the time and talent of volunteers and better meet our mission. Kim Staton, Osceola County Animal Services Director made the following statement concerning the Service Enterprise certification process:
"Participation in Service Enterprise has forced the entire team at the shelter to assess and update many of our procedures and policies in order to make OCAS more effective as a volunteer site and as a place that saves and improves the lives of our animals."
The changes made to our organization through Service Enterprise certification include the following:
Developed and adopted a one – team approach for volunteers, staff and management.

Updated and refined training materials for all team members.

Created numerous new team positions, both paid and volunteer, to better serve our animals, team, and community members.

Updated job descriptions for all team members to include participation of volunteers in almost all shelter functions.

Created and implemented a team recognition area for our website that can be publicly viewed.
Our return on volunteer investment as calculated using the Service Enterprise formula for the Osceola County Animal Services volunteer program is as follows:
For each dollar spent by Osceola County Animal Services on the volunteer program in the past year, there is a return to the organization of:
$11.42 in services by our volunteer team members.
The total calculated value of volunteer contributions in the past year was:
$993,395.00, including both on site and foster care volunteers.
Research conducted by the TCC Group, a national program and evaluation firm, found that organizations operating as Service Enterprises outperform peer organizations on all aspects of organizational effectiveness, and are more adaptable, sustainable and capable of scaling their work.
The Service Enterprise program is a national change management program that helps organizations gain a greater return on volunteer investment to better achieve their mission. For more information regarding volunteer opportunities with our organization, please visit www.osceolacountypets.com/volunteer.
For further information regarding Service Enterprise, please contact Best Friends Animal Society.