News: Expired: Get a free designer tag!
Published Fri July 24, 2020
Only until October 1, 2020!
That's right!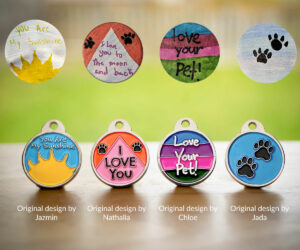 From now until only October 1, 2020, all Osceola County
residents receive a free designer tag when they license their pet, or renew their pet's existing license. 
Choose from 108 styles and support Osceola County Animal Services – how cool is that?! There are even the styles on the right; designed by Osceola County children!
Pick yours by simply clicking the link below then choosing your favorite design.

Use discount code OCAS at the time of payment to claim your free designer tag!