News: Clear the shelters 2022
Published Sat July 30, 2022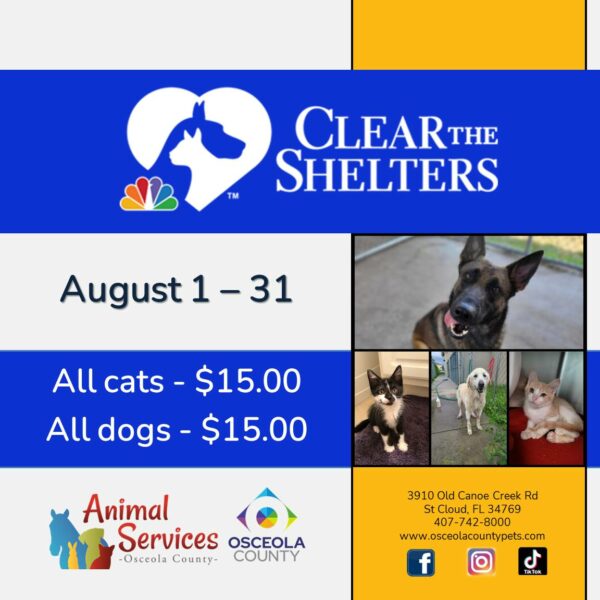 August 1 - 31, 2022

Adoption fees for all dogs and cats:
$15.00*
Once again, Osceola County Animal Services will be participating in the annual Clear the Shelters event. This is the eighth consecutive year that NBC and Telemundo owned stations present their popular pet adoption campaign to communities nationwide in partnership with affiliate stations and shelters/rescues. NBC Universal Local is teaming up with hundreds of shelters across the country to host Clear the Shelters, a nationwide pet adoption drive in August 2021 that helped find loving homes for animals in need.
More than 700,000 pets have found their forever homes since 2015.
How it works
Check the adoptable pets sections of this website often, or click one of the links below now.

Make an appointment to view the animal or, for fostered animals, by calling 407-742-8000.

Visit the shelter at your scheduled appointment time to choose your animal.

Paperwork and payment may be completed either live at the shelter or remotely online.
*Adoption fees include all initial vaccinations, health check, license spay/neuter and a welcome kit.