Published Sun January 1, 2023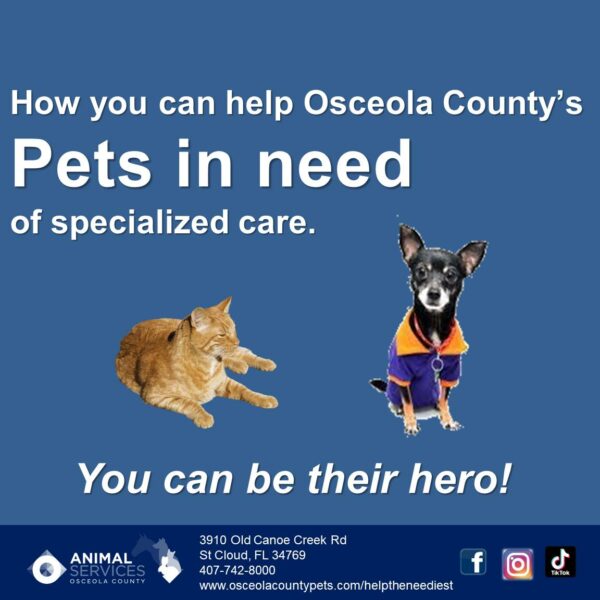 Please help us help them
We need your help to assist us in saving Osceola County's neediest pets!
The issue…
Osceola County Animal Services is an open access shelter, meaning that we have to take in virtually any and every domestic and farm animal that is either found stray or surrendered to us. Unfortunately, some of these animals have existing medical and other issues that severely effect their quality of life. Through neglect, abuse or just simply being lost, many animals need some extra help.
Where community help is vital
Animal Services has a budget that covers most routine medical procedures both on site and at other local practices. However, when animals need extraordinary assistance in either regaining or sometimes attaining a better quality of life, we rely on our Osceola County community to help us. The animals that come to us that require specialized care count on us to provide the services that our budget could not ordinarily pay for.
What your contribution can help pay for
extraordinary medical procedures

medication

treatments

specialized food

animal enrichment

emergency interventions
Kept local
All of the funds donated help only the pets at our shelter.

When possible, local providers will be used for services.
How to donate
Simply complete the safe, secure form by clicking below to donate funds that will help our neediest Osceola County pets. Thank you!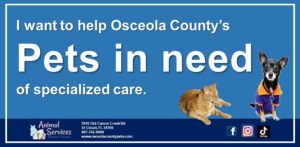 Sir Phillip's story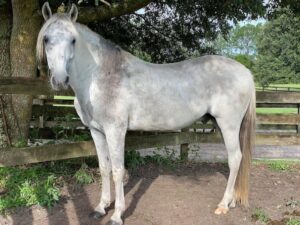 Sir Phillip is a 20 year old Paso Fino gelding. He was rescued by our Animal Control Officers in January of 2020. When found as a stray animal, Sir Phillip was  malnourished and underweight. He was brought back to our St Cloud facility and took up residence in the barn and paddock behind the building.
Sir Phillip is now healthy and is in his forever home thanks to the generosity of our community.
Pet Enrichment
Our dogs' play areas were paid for in part by community donations. This enrichment activity helps to socialize the dogs and help us analyze a specific dog's behavior, likes and dislikes.
The areas in which the dog play groups are conducted were paid for by a grant and by the generous donations of community members.
Acero was seized in May 2021 as part of a group of 150 animals. He was emaciated, diagnosed with hepatitis, anhidrosis (unable to sweat), paraphimosis, and needed his hooves trimmed and teeth floated.
After months of rehabilitation and excellent veterinary and staff care under the direction of Dr. Tara Gaston, Acero was well enough to be sent to the wonderful folks at the University of Florida to be gelded, which occurred a short time ago.
Acero is doing well and we will be picking him up and transporting him to Mill Creek Equine Sanctuary in Alachua, Florida, to live out his life. Acero is a example of the forgiving nature of animals and the resiliency they have in recovery from severe neglect.
The story of Nora
Nora arrived at the shelter as a stray in October of 2020 with the injuries pictured on the top right photo. It is believed that this unfortunate animal was used as a bait dog.  Nora was treated at our facility and went into foster care in November to complete her recovery. Someone who had adopted from the shelter previously was interested in the dog; her recently passed dog looked just like Nora.
The potential adopter started crying as soon as she saw her and said she wanted to adopt her immediately.  The adoption was completed and Nora  went to her new forever home. Nora's new family has told us that they love everything about her.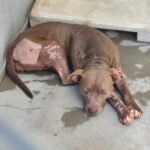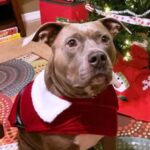 Olive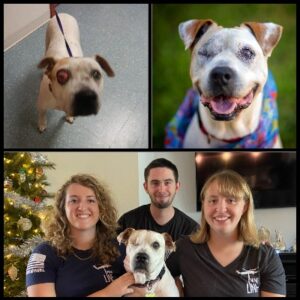 Olive is a 7 year old spayed pointer mix.  She arrived in June 2021 when we arrived at the shelter to find her tied to the gate.  Olive had a severe preexisting eye injury required that her left eye be removed. After her surgery, she went into a foster home. By August's end, she was adopted.
Every foster and Olive's adopter described her as super mellow and just an overall great dog.
This success story was made possible in part by the donations that we receive from our citizens.