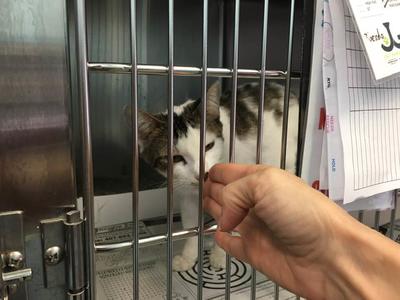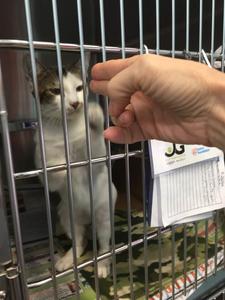 Gender: Female
Colors: White
Species: Cat
Arrived: 04/01/2019
Breed: Domestic sh
ID: A282506
Age: 6 MONTHS
Weight: 6.90
I may be a kitten from a rough place, but nothing's gonna keep me down! I love to play with humans and I've been with other cats. Like all kittens, I'm equal parts active play and nap-time. I'm mostly white with some black tiger thrown in for pizzazz. Before I came here I didn't get any care, so if my fur looks a little sparse in spots, don't worry, it's growing back! Meanwhile I'm so glad to be safe and under care. All that's left is to find my fur-ever home. If you're thinking of two kittens, my friend Lilly and I would love to go home together!
How to adopt this pet
If you are interested in adopting this featured pet, you may call us to see if it is still available, however, we can not hold an animal. If you wish to adopt you must come to the facility, fill out the application and pay for the adoption. In most situations you will not be able to take your animal home the same day, it must be first sprayed or neutered.
Adoption fees
All dog and cat adoptions include spay/neuter and the first set of shots for the pet.
Regular adoption fees:
Cats: $60
Dogs: $70
Special promotion:
Hours of operation
Monday:        12:00pm – 4:45pm
Tuesday:        10:00am – 4:45pm
Wednesday: 10:00am – 5:45pm
Thursday:      10:00am – 4:45pm
Friday:            10:00am – 4:45pm
Saturday:       10:00am – 3:15pm
Sunday/Holiday – Closed
Find a pet based on how it looks.
Facial recognition may help you find the right pet!