#Explore the good.
#Make kindness the norm.
Ways to show kindness to animals
Spend quality time with your pet. It's great for your health and theirs!

Make sure your pet has an ID tag and microchip. Identification is how lost pets get home!

Create a fear free happy home. Force-free training methods will help build the bond with your pet. Register your home for free at www.fearfreehappyhomes.com

Report any suspected animal abuse or neglect to Animal Services in your community.

Commit to adopting your next pet from an animal shelter or rescue.

Donate or volunteer to support your local animal shelter.

Spay or neuter your pets.

Drive cautiously through areas populated by wild animals such as deer.

Plant flowers in your yard that will attract butterflies or hummingbirds.

Speak out in your community about the importance of respecting wildlife and caring for animals in need.

Spread kindness! Acts of kindness make a huge difference in our world and the lives of others. Share with us how you are being kind to animals by tagging us in your social media. We would love to hear from you! @osceolacountyanimalservices
Tee shirt fundraiser to support our cause.!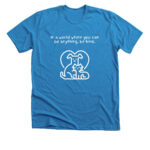 Osceola County Animal Services prides itself on the care and kindness that defines our philosophy. To continue our quest to provide the best of care, we are selling tee shirts. All proceeds will be restricted to the health and welfare of animals in our charge.
There are many styles and colors available, from tees to hoodies. There are even sizes for kids!
Please click the link below for more information.
Thank you!