Yes; we do have horses to adopt out!
From time to time, Osceola County Animal Services will receive a horse on site that, after some care and rehabilitation, will be fit for adoption to a loving home. These horses usually arrive at our facility in these ways:
cruelty or neglect confiscations

stray pick up

owner surrender
Upon arrival, we assess and work with them until we are confident that they are healthy and good natured enough to become part of a community, be it a farm, a family or a rescue organization.
Who can adopt these animals?
Horses can only be adopted out to individuals or organizations that meet the following criteria:
a detailed, working knowledge of horse behavior and needs

access to appropriate equine health care professionals

an appropriate amount of land zoned for horses

a proper pasture that is safely and securely fenced

adequate shelter

access to a farrier

a personal visit to the shelter by the potential adopter

a visit by our personnel to the potential placement site
How much does it cost?
Generally, the adoption fee is $100.00.
Are there horses available now?
Yes; we have two. Here are their profiles.
Mi Amor
Chestnut Paso Fino Mare with a white star

About 12 years old

Current on vaccinations, negative coggins

Narrative: She is sweet but has come to enjoy the pasture life and sometimes can be a little hard to catch.  She has a chronic eye problem that became chronic because it was not properly addressed when it first occurred. She needs to wear a fly mask and her eyes need to be wiped out and medicated as indicated.

She was seized November, 2021, due to neglect. She has gained considerable weight and has had several hoof trims.  Has to be lightly sedated for hoof trim.
Hosanna
American Mustang mare

approximately 11 years old.

current on vaccinations, negative coggins

Narrative: Must go to a knowledgeable, kind person who has time to spend gaining her trust. She can be very sweet, once you catch her, but lacks trust in humans and confidence in herself. Her innate desire for self-preservations makes her reactive to new things, and even sometimes things not so new. 

She has been with us since June, 2021 and was seized as part of a large scale case involving 150 animals.

She is an easy keeper in terms of her body condition. Has to be sedated for hoof trim.
---
Tales from the paddock –
our horse adoption stories
Sir Phillip's story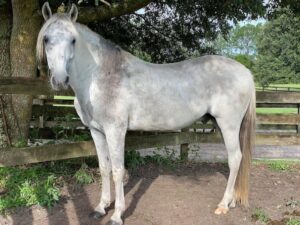 Sir Phillip is a 20 year old Paso Fino gelding. He was rescued by our Animal Control Officers in January of 2020. When found as a stray animal, Sir Phillip was  malnourished and underweight. He was brought back to our St Cloud facility and took up residence in the barn and paddock behind the building.
Sir Phillip is now healthy and is in his forever home.
See Mi Amor and Hossana
in action:
Acero's saga
Acero was seized in May 2021 as part of a group of 150 animals. He was emaciated, diagnosed with hepatitis, anhidrosis (unable to sweat), paraphimosis, and needed his hooves trimmed and teeth floated.
After months of rehabilitation and excellent veterinary and staff care under the direction of Dr. Tara Gaston, Acero was well enough to be sent to the wonderful folks at the University of Florida to be gelded, which occurred a short time ago.
Acero was doing well and we transported him to Mill Creek Equine Sanctuary in Alachua, Florida, to live out his life. Acero is a example of the forgiving nature of animals and the resiliency they have in recovery from severe neglect.