News: Welcome, Petsmart Charities!
Published Sat January 16, 2021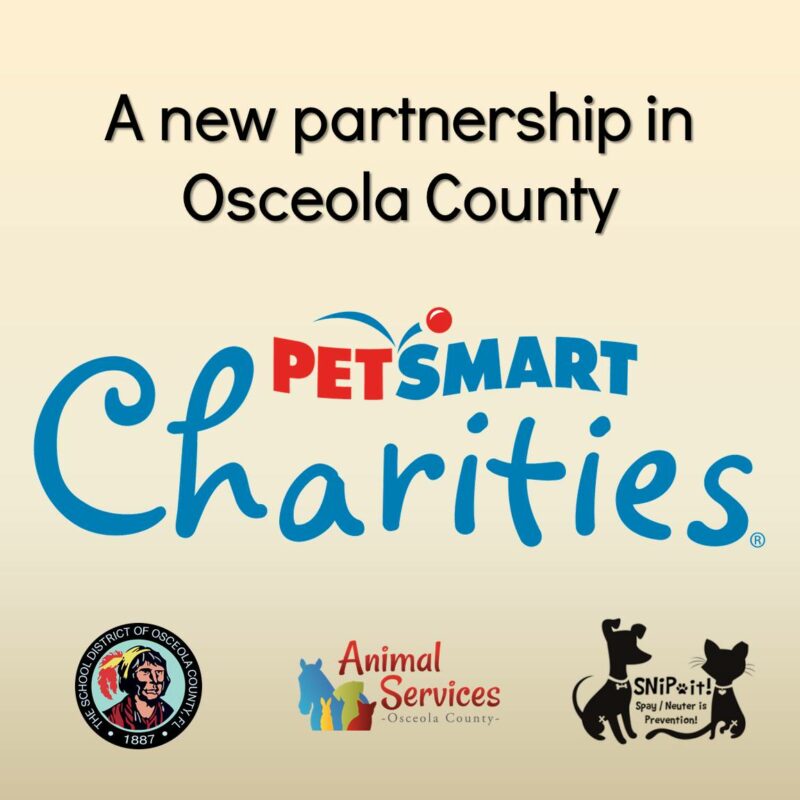 A partnership for needy pets
New low cost veterinary clinic to open in Osceola County
thanks to a unique partnership
Osceola County Animal Services, Protectors of Companion Animals, dba, SNiP-it of Central Florida, and  the Osceola County School District are teaming up to open a low-cost veterinary clinic for under-resourced communities in Osceola County. The clinic, located at Harmony High School (3601 Arthur J. Gallagher Blvd, St. Cloud, FL 34771), will be made possible through a PetSmart Charities grant of $150,000 awarded to Osceola County to help purchase much needed equipment and offset operational costs.
Osceola County Animal Services receives thousands of animals into its shelter each year and many of these pets have owners who cannot afford the cost of basic pet care. Access to this new veterinary clinic will be limited to pet owners who are living at or near the poverty level based on the most current data.
Protectors of Companion Animals, Inc. a 501(c) 3 non-profit, with the support of Osceola County Animal Services, opened SNiP-it of Central Florida, a high volume and quality, low cost spay/neuter animal clinic in August 2016. To date they have performed over 24,000 surgeries.
The goal of the partnership between the County, Protectors of Companion Animals, the School District, and PetSmart Charities is to offer services to pet owners and their pets that would not otherwise be accessible. The clinic will operate part-time, three days per week. The clinic will not be in competition with other local veterinary practitioners, as there will be income requirements in order for residents to access the low-cost services.
"This low-cost veterinary clinic is a win for everyone involved," said District 5 Osceola Commissioner Ricky Booth. "Pet owners win because they will now have options for low cost services. The County wins as this will help reduce the number of pets relinquished by owners who truly love their pets, but simply cannot afford veterinary care. And our students win with this unique, valued opportunity for Harmony High School."
The new clinic will help Harmony High School students going through the school's Veterinary Assistant Certification program. It is a 4-year program that requires each student to complete 500 hours of hands-on, animal-related training. The school boasts a large clinic complete with examination tables, anesthetic machines, surgical packs and other equipment. Unfortunately, the clinic has gone mostly unused, making it difficult for students to obtain their certification. Transitioning the clinic into a low-cost services one, will help change that. The clinic is targeted to open in June 2021.
"The Osceola County School Board and I remain extremely proud that our schools remain a focal point for community involvement and partnerships in Osceola County," said Osceola School District Superintendent Dr. Debra Pace. "We have seen time and time again that when schools, a supportive local government entity like Osceola County, and an innovative business partner such as PetSmart Charities come together, great things can happen in the lives of children, families, and residents."
"We are thrilled to support this initiative that will remove barriers to veterinary care," said Aimee Gilbreath, president of PetSmart Charities. "The collaborative effort between Osceola County Animal Services and Harmony High School will not only provide invaluable training to students but also necessary health and wellness services to community pets that may not otherwise receive the care they need."
Since 1994, through its partnership with nearly 4,000 humane societies, SPCAs and pet rescues across North America, PetSmart Charities has helped more than 9.5 million pets to find loving homes via its in-store adoption program in over 1,650 PetSmart® stores. The leading funder of animal welfare has also donated nearly $430 million, to positively impact communities, to connect people and pets, to help preserve families and to improve access to veterinary care through initiatives like this with Osceola County Animal Services.