Published Tue March 14, 2023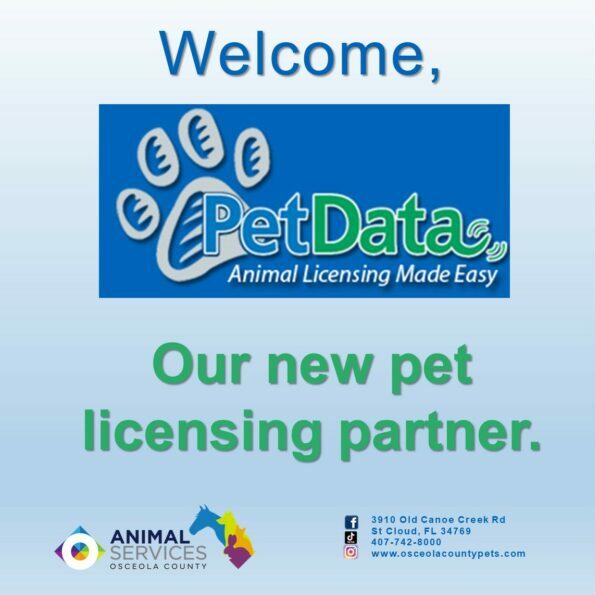 Our new licensing partner
PetData; Quick Facts*:
Petdata started in 1994 and currently serves over 80 municipalities in the U.S.

To date, PetData has processed over 33,000,000 pet licenses and vaccination records.

PetData believes proper education on the benefits of licensing and vaccination generally promotes more responsible pet ownership, resulting in a safer, more informed community.
---
PetData's licensing services for clients include:
Pet licensing on-line.

Processing all license applications.

Mailing license tags, notices and reminders.

Providing customer service to clients and pet owners.

Maintaining privacy of all data.
---
What are the benefits of having a current pet license?
Free ride home: In most cases, pets that are wearing current licenses get a free ride home if they become lost and are found by an Animal Services Officer.

It alerts the community to the fact the pet is owned, increasing the likelihood the pet will get back home without coming into the shelter. During a recent 30 day period, 43 found pets were reported by community members – none were wearing tags.

In the event a pet bites a person, pets that are not current on their rabies vaccination will have to be quarantined at animal services.

Pet owner information can be tracked online by officers 24/7 and the community, to the extent allowed by the owner, to get pets back home safely.

And did you know that your pet licensing dollars go into a designated fund to help support animal welfare programs in Osceola County? They do! So when you purchase a pet license, you are not only helping to keep your pet safe but are also helping other pets in your community.
Licensing fees as of October 1, 2022:
1 year license
$10.00
Replacement tag: $10.00
3 year license:
$20.00
Replacement tag: $10.00
55 & over
1 year license – $5.00 
3 year license – $10.00
---
Click the image below to visit the PetData website.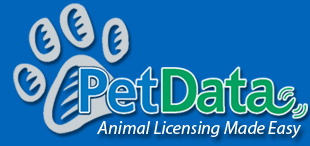 *Information provided through the PetData corporate website.