Osceola County Animal Services' 2023 Community Appreciation Day has been scheduled for Saturday, November 4 from 10:00am until 2:00pm at our St Cloud shelter.
Community Appreciation Day is an outdoor event that is about giving back to our community to thank them for their support and about finding forever homes for some great pets! Please join us on Saturday, November 4 from 10:00 – 2:00 and help to make this a great day for the homeless animals of Osceola County and raise awareness!
Deadline for vendor applications is September 30, 2023.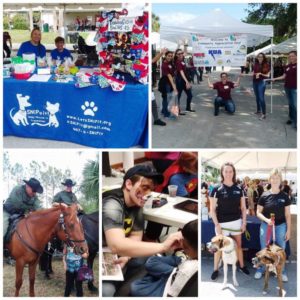 Osceola County Animal Services
3910 Old Canoe Creek Road
St Cloud, FL 34769
phone: 407-742-8000
fax: 407-891-1290
Soraida Disalvatore
Osceola County Program Supervisor
email: sdisalvatore@osceola.org
phone: 321-443-0410
fax: 407-891-1290
You may choose to participate in this event at any of the three levels below.
provides funding for the event

provides sponsorship for the event

receives recognition through our websites, social media, and banners on site during the event
provides an outdoor demonstration on microphone

has a 20 minute time block to present an animal themed presentation or live animal demonstration
Demonstrations are by invitation only.
provides an information booth with give-aways and educational materials

has a display or table demonstration or activity/game
Osceola County will be providing a tent, table, and 2 chairs.
Have a fun activity to ensure guests visit your table. There is a strict no selling policy and no personal information (name, email) collection is permitted at this event. Please promote your business with give away items and promotional materials but we ask that you do not request our guest's information as a requirement for promo items or participation in an activity.