We have four ways that you can license your pet
---
• license online
• license by mail
• license at the shelter
• license at selected vets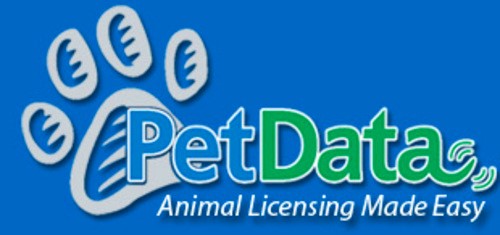 ---
• Periodic rabies vaccinations for pets are required by Florida Statute, 828.30.

• All forms of license requests must be accompanied by a certificate of rabies vaccination
from a licensed veterinarian.
---
1 license year tag
---
1 year rabies
vaccination – typical
---
All animals – $10
Replacement tags are $10
3 year license tag
---
3 years rabies
vaccination
---
All animals – $20
Replacement tags are $10
55 and older tag
---
1 & 3 year rabies
vaccinations
---
All animals – $5 1yr/$10 3 yr
Replacement tags are $10
---
Choose your preferred method of licensing by clicking a link below.

Payment may be by local check,Visa, Master Card, or Discover debit and credit cards.
---
Pet Data customer service:
877-200-0861
---
The benefits of having an up to date Osceola County pet license:
---
• Free ride home: In most cases, pets that are wearing current licenses get a free ride home if they become lost and are found by an Animal Services Officer.
• It alerts the community to the fact the pet is owned, increasing the likelihood the pet will get back home without coming into the shelter. During a recent 30 day period, 43 found pets were reported by community members – none were wearing tags.
• In the event a pet bites a person, pets that are not current on their rabies vaccination will have to be quarantined at animal services.
• Pet owner information can be tracked online by officers 24/7 and the community, to the extent allowed by the owner, to get pets back home safely.
• And did you know that your pet licensing dollars go into a designated fund to help support animal welfare programs in Osceola County? They do! So when you purchase a pet license, you are not only helping to keep your pet safe but are also helping other pets in your community.
---
---
The veterinary clinics in Osceola County that are listed below distribute County licenses and tags to their current clients. The license can be obtained at the time of rabies vaccination. The list below has live links. Fees for services are set by the individual offices.
If you have questions, please call 1-877-200-0861 or 407-742-8000. Only the vets listed above can provide an Osceola County license tag on site.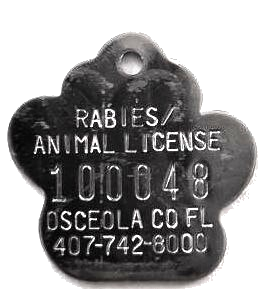 ---
Legal information
---
To get a new pet license, you will need your animal information as well as your current rabies vaccination document. Our licensing partners do have to verify current rabies vaccination status to issue the license.
Rabies vaccinations must be administered by a licensed veterinarian.
The rabies tag you receive from the veterinarian is not a County License. You must maintain a separate County License. Why?

We do not maintain a database that contains information on veterinary clinic vaccination tags that are issued, only those that are Osceola County tags.
If the clinic is closed and your pet is lost or injured, we have no way to obtain owner information.
The Osceola County Tag information is readily accessible by Animal Services staff, including the rabies vaccination status of the animal. This information is important in animal to human bite situations to verify vaccination status. Having a current County tag on your pet may avoid a trip to the animal shelter for your pet and you having to pay associated fees or fines.
Free ride home for your lost pet! If your pet is loose but not causing a public safety issue, the Animal Control Officer will bring your pet to you, if you can be reached, rather than bring him to the shelter. This saves you time and money!

Your County License is only valid until the rabies vaccination expires. If the vaccination is only 1-year, do not choose the 3-year license option.
Providing false information regarding the rabies vaccination status of your pet may result in the issuance of a citation. By submitting an electronic request for pet licensing, you are acknowledging that the information being provided is true and accurate to the best of your knowledge.
Florida State Statute: 828.30(1) Rabies vaccination of dogs, cats, and ferrets.— (excerpt)
All dogs, cats, and ferrets 4 months of age or older must be vaccinated by a licensed veterinarian against rabies with a vaccine that is licensed by the United States Department of Agriculture for use in those species. The owner of every dog, cat, and ferret shall have the animal re-vaccinated 12 months after the initial vaccination. Thereafter, the interval between vaccinations shall conform to the vaccine manufacturer's directions. The cost of vaccination must be borne by the animal's owner.
A dog, cat, or ferret is exempt from vaccination against rabies if a licensed veterinarian has examined the animal and has certified in writing that at the time vaccination would endanger the animal's health because of its age, infirmity, disability, illness, or other medical considerations. An exempt animal must be vaccinated against rabies as soon as its health permits.
Upon vaccination against rabies, the licensed veterinarian shall provide the animal's owner and the animal control authority with a rabies vaccination certificate. Each animal control authority and veterinarian shall use the "Rabies Vaccination Certificate" of the National Association of State Public Health Veterinarians (NASPHV) or an equivalent form approved by the local government that contains all the information required by the NASPHV Rabies Vaccination Certificate.